Regular price
Sale price
₱2,800.00
Unit price
per
Sale
Sold out
Inclusions:

Basic 5 with  FREE body fat composition analysis to be availed at the center for executive health. (availment is on a by-appoint basis)​
Up to 10% discount on selected Outpatient services​
One time room upgrade to suite room for in patients (subject to availability)
Special birthday treat for inpatients​
Invitations / Access to events and webinars​

Seasonal Offers​

Selling period of Wellness Card is from June 8, 2023 to May 31, 2024
Card Validity: June 8, 2023 - June 30, 2024.
View full details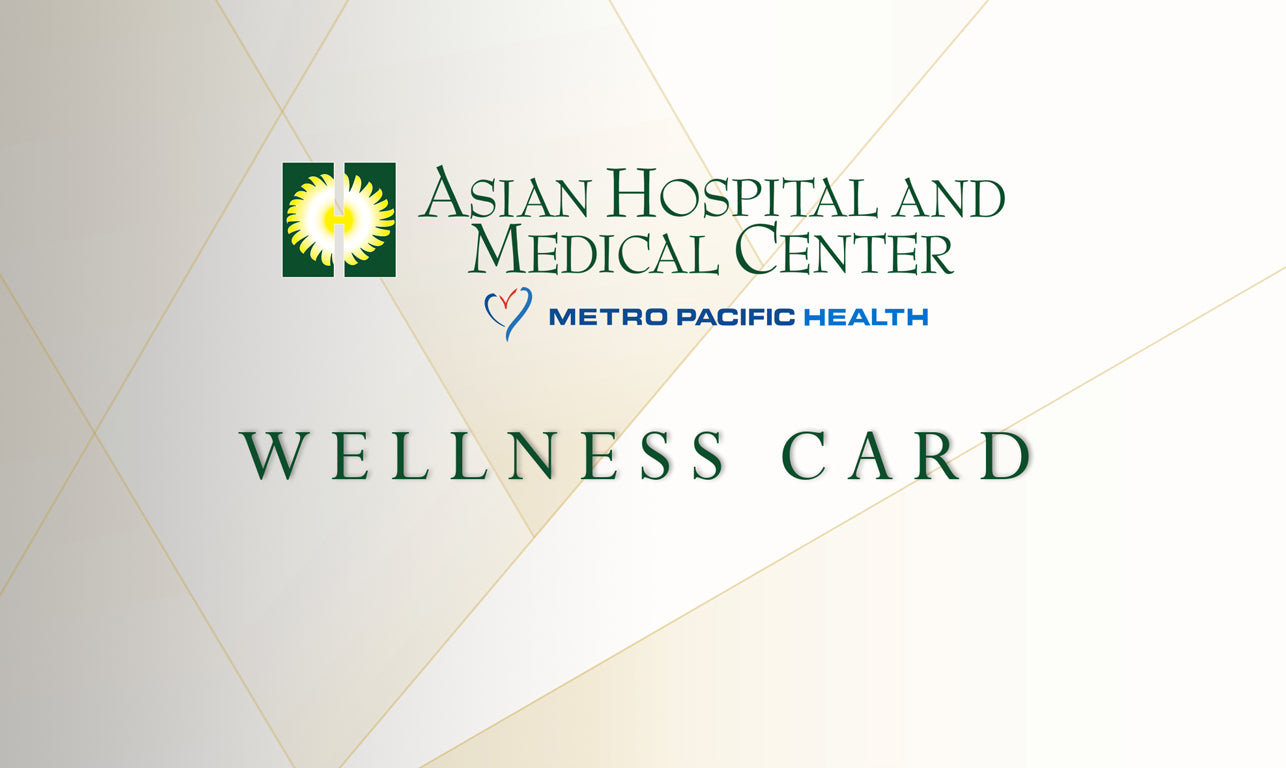 Terms and conditions
Selling period of Wellness Card is from June 8, 2023 to May 31, 2024.
Card Validity: June 8, 2023 - June 30, 2024.
The Wellness Card must be activated prior to the availment of any services.
Wellness card is NON-TRANSFERABLE upon activation.
Services included in the Wellness Card must be used by the registered patient only.
How to Purchase
The Wellness Card will be available for purchase online at https://packages.asianhospital.com/ and over the counter at Asian Hospital and Medical Center's cashiers.
Cashless payment is also available via Gcash and Paymaya.
An e-voucher will be issued via email upon payment. This e-voucher will serve as your proof of payment to be presented to the hospital for card activation.
How to activate the card
You may activate your wellness card in multiple ways:
Onsite

Head over to our infohub booth located beside the front desk at the upper ground floor, tower 1, Asian Hospital and Medical Center.
Present your wellness card voucher number and request for activation. Our infohub team will be the one to process your activation request. Please expect a confirmation message within 24 hours via SMS or Viber message.

Through call / Viber / Messenger

By call: Call our infohub team at (02) 8771 9000 local 5913.
By Viber: Send us a message on Viber at 0917 852 0351.
By Messenger: send us a message at https://www.facebook.com/AsianHospitalPH.
Please prepare the following information for activation:

Name of user
Date of birth
Wellness Card Unique Voucher Number

A confirmation message will be sent to you through SMS/Viber within 24 hours after activation.
For premium card holders, please expect an SMS from your personal concierge within 1 business day.
Once activated, you may present the Wellness Card to enjoy exclusive discounts and privileges. Discounts are only applicable for onsite payments only.
How to Schedule an Appointment
To schedule your Basic 5 appointment, call the Asian Hospital Infohub at (02) 8771 9000 local 5913 or send us an email at infohub@asianhospital.com. You will receive an email/SMS confirmation of your appointment.
Disclaimers:
List of procedures are subject to change without prior notice.
Some procedures may require a doctor's order prior to availment.
Limitations on Room Upgrade
Room upgrade is subject to availability.
Room upgrade is offered to patients that are staying at Standard Private Room up to Executive Room.
Room upgrade is effective throughout the whole single stay of a patient.
Presidential Suite is not included in the room upgrade.
Room can only be upgraded by 1 tier. Please see table below for reference:

| | |
| --- | --- |
| Starting Room Classification | Upgraded Room |
| Standard Private Room | Junior Executive Room |
| Junior Executive Room | Executive Room |
| Executive Room | Premium Private Room |

Rooms of patients who are already admitted can only be upgraded from the day that they purchased and activated the wellness card.
Room upgrade can only be used once per card member.
Enjoy a 10% discount on selected outpatient services:
Radiology
Liver Ultrasound
Prostate Ultrasound
Thyroid Ultrasound
Pancreatic Ultrasound
Hearing unit
Auditory Brainstem Response (ABR)
Auditory Brainstem Response (ABR) with Auditory Steady-State Response (ASSR)
Auditory Steady-State Response (ASSR)
Electrocochleography (EcochG)
Vestibular Evoked Myogenic Potentials (VEMP)
Eye center
Yag Laser Capsulotomy (ylc); per eye
Yag Laser Iridotomy (yli); per eye
Focal Laser Treatment; per eye
Panretinal Photocoagulation; per eye
Laser Iridoplasty; 1 eye
Argon Gonioplasty; 1 eye
Breast cancer screening test
Mammogram
Breast Ultrasound
Prostate cancer screening test
Prostate Specific Antigen Test (PSA)
Basic Nutrition Counselling
Anti Acne Laser Treatment
Enjoy a 5% discount on selected outpatient services:
Cervical cancer treatment
Loop Electrosurgical Excision Procedure (LEEP)
Thyroid cancer screening test
Fine-Needle Aspiration Biopsy
Asian Cardiovascular institute
Heart Screening Package A
Heart Screening Package B
Coronary Angiography Package
Comprehensive Pulmonary Function Test (PFT) Package
Privacy Policy
Our privacy policy values and protects your personal information under the Data Privacy Act of 2012 and the laws of the Philippines. Personal information needed such as Name, Contact Details, and Email Addresses​ simply means any information or data that can be used to distinguish, identify, or contact you and deliver the product and/or services bought in the Asian Hospital E-Commerce website.
As a condition for purchasing our products and services, you are consenting to the Privacy Policy of both Shopify and Maya and its subsidiaries, affiliates, and subcontractors; and the collection, use, access, and processing of your personal information as described in this Privacy Policy.